Ann Roberts
TODA Orchestra Director of the Year - 1995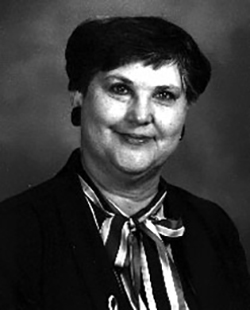 "My mother's house in Fort Worth was a piano studio. Students were constantly coming for lessons from morning to night. It was only natural to include her daughter, if only to enrich her life. Little did she suspect that by so doing she would set into motion a music teaching career of 40 years, and counting!
I began violin study in the 5th grade, and became concertmaster in the JH and HS orchestras. Private studies were in progress with Brooks Morris of TCU, while I played in the symphony through high school. I was fortunate to gain membership in the All-State Orchestra for three years. Bachelor of Music and Master of Music Education degrees were earned at NTSU where I was member of the Stage Band, Symphony Orchestra, Concert Band, and the Grand Chorus.
"My teaching career began in 1956 in Odessa, where I married Hubert Carson , and after two years, moved to Andrews where I started the strings program. Then it was on to Lubbock where Hubert served as Minister of Music at First Methodist Church. Moves were frequent, sending us then to Pampa. Here, I finally got to start my family with the birth of my two sons, H. Glenn, Jr., and Thomas Ritchey Carson. During this time I expanded my experience by teaching vocal music in grades 1-12 at White Deer. For four years I was organist and director of two children's choirs at the First Methodist Church where Hubert served as Minister of Music. While living in west Texas, I played in the San Angelo, Midland, Odessa, and Amarillo Symphonies. In 1967 we moved to Lawrence, Kansas. For the next 11 years, I continued teaching privately, in public schools, and in church music. There I played in the Lawrence and Emporia State Civic Symphonies. During these years, I was President and Treasurer of Sigma Alpha Iota Alumnae Chapter. In 1976 my husband passed away. In 1978, in almost "storybook" fashion, I was united in marriage to Frank Roberts, a single parent with three children, and my former "beau" at NTSU. We moved to Houston, bringing our two families together. It's been a great 17 years!
"The strings program at Cypress-Fairbanks ISD has gone from one teacher and 45 students to eight teachers. During this period, innovations have included the 6th Grade String Fling, JH Honor Orchestra, HS Orchestra Festival, and the after school 5th grade, "Swinging Strings" program. It has been a learning experience to return to UIL competition in Texas. It has been a challenge, but with a lot of help and encouragement from the wonderful teachers in Region 9, some honors finally came our way.
"Serving as Region 9 Chair for over 12 years has taught me a lot about relationships and team cooperation. My friends in the region have given me more love and camaraderie than I can ever return, but I'll continue to try. They have been wonderful, and without their support, this tribute would not have been possible. My thanks to you all, and I herewith convey my love and good wishes to you and the many students I have taught over all these years.
Music is my life!"
- Ann Roberts