Boyce Wyrick
TOD

A

 Orchestra Director of the Year - 2010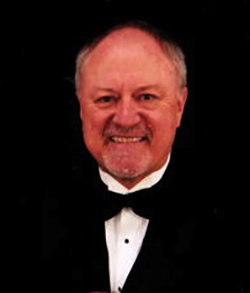 A "naturalized citizen" of Texas, Boyce got here as quickly as he could, leaving St Louis and settling in Amarillo where he attended the public schools, participating in both orchestra and band. His teachers in the Amarillo included Richard Kidwell, Virginia Vinson, Betty Bledsoe, Ira Wall and James Restine. He was a double bass student of Bill McNeiland. After graduation from Caprock High School he attended Texas Tech University from which he holds both Bachelor and Masters Degrees in Music Education.

He studied double bass with both Ben Smith and Theodore Schettler, and conducting with Paul Ellsworth, Dean Killion and Gene Kenney. While at Texas Tech University he participated in the University Symphony, the Tech Chamber Orchestra, the Symphonic Band and the Goin' Band from Raiderland. He held membership in both Phi Mu Alpha and Kappa Kappa Psi.

Boyce has had an active performance schedule most of his career performing with the Crown Trio (Ed Wyrick, leader), Amarillo Symphony, the Mark Anthony Orchestra, Midland-Odessa Symphony Orchestra, Roswell Symphony, US Army (the Fourth, Fifth, Eighth and Seventy-Seventh army bands), San Antonio Civic Orchestra, Seoul Philharmonic, Yongsan Chamber Orchestra, Lawton (Oklahoma) Orchestra, San Angelo Symphony, Big Spring Symphony Orchestra, Plainview Symphony Orchestra (charter member) and Lubbock Symphony Orchestra, where he is beginning his 38th season.

He taught 35 years in the Lubbock public schools, at both Lubbock and Coronado high schools, serving as the quadrant leader of each. Both schools enjoyed an unbroken string of UIL Sweepstakes during his tenure. After five years at Lubbock High School, Wyrick moved to Coronado High School upon the retirement of Dr. George Robinson, a TODA founding member, President and Orchestra Director of the Year (1981). It was there he remained until retirement in 2009. The Coronado Orchestra was recognized at festivals in Texas, California, Florida, Colorado and Louisiana. The contest and concert venues were quite notable but among his favorites are Fort Worth's Bass Hall, the Orpheum Theater in New Orleans and the USS Missouri in Pearl Harbor. Over the years at Coronado, the orchestras were fortunate to have many fine student teachers from Texas Tech University and Wayland Baptist University. Fellow orchestra directors who assisted at Coronado High School have been Jo Anne Bonnington, John Cain, James Ellis, Laura Flanagan, Diana Goad, Margaret Johnson, Kathy Patterson, Diana Sanchez and Judy Woody. Many students of both Lubbock and Coronado high schools have pursued music education and performance careers. Boyce holds professional memberships in TODA, TMEA, TMAA (charter member) and Mu Omicron (charter member), and has held several offices in all four organizations.

Wyrick has been involved in Lubbock's church music community and currently serves the congregation at Westminster Presbyterian where he directs the Chorale and the Prime Chimers and chairs the music ministry. He has also been actively involved in the Lubbock Youth Symphony Orchestra as a section coach. "Retirement" has brought new endeavors including helping to establish the orchestra program at Wayland Baptist University in Plainview, and directing the Plainview Symphony Orchestra which he has guest-conducted for the past 12 seasons.

Kathy and Boyce enjoy, and are very proud of, their children, Gary & Kelley Lewis, Matt & Debbie Smith, Todd & Sarah Wyrick, and Jeff & Erin Wyrick and six (soon to be seven) grandchildren; Taylor, Dylan, Ryan, Parker, Adam, Peyton (and Ellison).