Deborah Kidwell
TODA Orchestra Director of the Year - 2015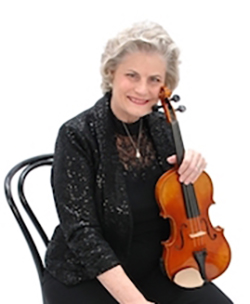 Deborah Kidwell was exposed to music and art at a young age, and having a career doing something she loved allowed her to share her talent with others. Deborah completed BME and M.Ed degrees from the University of Houston. She began her career at Goose Creek ISD in Baytown and served public music education for 33 years, retiring in June 2007. During her tenure as an orchestra director and fine arts administrator, Deborah was regarded campus-wide as a cheerful servant to students and fellow teachers alike. She taught all levels of orchestra in Goose Creek CISD (1974-1982) and in Clear Creek ISD (1982-2000), capping her career as the Director of Visual and Performing Arts for Clear Creek ISD (2003-2007). After retirement, she worked at the Arts Alliance at Clear Lake, an arts non-profit, serving as their Director of Education. She was a co-creator of the McAdams Metronome, now in wide usage in many band and orchestra classrooms.
 
In spite of being responsible for a program at Clear Creek ISD that included 160 teachers, Deborah made time to enjoy the hands-on aspect of the job and was known for her accessibility. During her career, she cultivated Award-Winning orchestras, while also wearing the hats of Fine Arts Department Head, Music Theory Teacher, Technology Teacher, and New Teacher Mentor, often all at the same time. Among her former students are educators, performers, doctors, pharmacists, ministers, composers, engineers, and businessmen who count themselves among those fortunate to have been in Mrs. Kidwell's Orchestra Family.
 
In 2006, Deborah was named Administrator of the Year by Houston Culture Shapers, an art program for high school students in Harris, Galveston and surrounding counties. The executive director of the Houston Culture Shapers said Deborah's accomplishments stood out among all the nominees.  Not only did she improve Clear Creek ISD's art program, Deborah was part of a committee that helped Houston Culture Shapers expand into the performing arts (prior to 2005, the area-wide program was only involved in visual arts).  Deborah also made changes that strengthened the art program in the school district, expanding fine arts assessments for students at the secondary and fifth grade levels, and adding advanced placement music theory classes to the curriculum. In 2007, the Texas Art Education Association recognized Deborah with the Educator of the Year for Administration/Supervision Award. She presented at the CEDFA Summit 2008 for the Administration strand.
 
In retirement, Deborah stays active in her profession, serving a consultant for school orchestra program evaluations, working with TEKS-based curriculum writing, and consulting with construction of fine arts facilities.  She has recently been back in the classroom, serving as a long-term sub for orchestra programs in Clear Creek and Pasadena ISD.  She is an active church musician, playing violin and handbells, and she conducts an adult recorder consort and a handbell trio.  Deborah serves on Executive Boards of the Bay Area Chorus, Bay Area Youth Symphony and the Clear Creek Association of Retired Teachers.  Deborah is a past president of TODA, as is her husband, James Kidwell.  She has two married stepchildren and one married daughter, and enjoys spoiling seven grandchildren, three who play stringed instruments.

Winning awards was never at the top of Deborah's list, though she admits it is nice to be recognized for her work.  "I think art is extremely important because it gives students a chance to express themselves," Deborah says, "and I believe art helps enhance learning in academic subjects."  We are honored to recognize Deborah Kidwell for her accomplishments with the 2015 Orchestra Director of the Year Award.