Donna Rogers
TODA Orchestra Director of the Year - 2002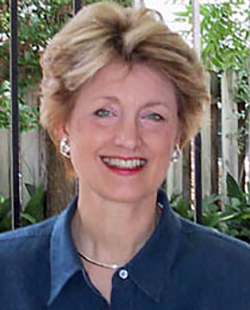 Donna Rogers received her BSE degree from the University of Arkansas and an MM in performance from Northwestern University under Dudley Powers. She studied cello with Orlando Cole of the Curtis String Quartet and chamber music and composition at Yale University. She was a student of Harold Schnier and Shirley Trepel of the Dallas and Houston Symphonies.

After teaching three years in the Dallas ISD, she moved to Houston in 1970 and taught cello privately. Her students were among the top chairs in Region and filled more than 80 positions in the All State cello sections.

Donna initiated a string program at Frostwood Elementary School in the Spring Branch ISD in 1978 to provide a group setting for her second-grade daughter, and later her son, to begin playing cello. During her ten years teaching at Frostwood, she established a two week summer elementary violin camp called "Fiddlers' Fair", which just celebrated its 16th year.

Donna began teaching at Memorial MS in 1985. It was through much of her efforts that the District's orchestra program grew as she initiated the writing of the high school honors music program, produced a string recruiting video, and put together the first Orchestra Festival. After writing numerous proposals, Memorial was finally granted its first full-time position in 1988, followed by a second position in 1990. As a result of similar efforts, homogenous class instruction was achieved on all levels the same year. To accommodate this instruction, classes were held in hallways, cafeterias, and even the band hall, and, in 1995, the district approved funding for an instrumental music facility.

The Memorial MS Orchestra program has grown over the years from 60 string students to over 200 with four performing groups including a cello choir. Memorial MS won the Texas Honor Orchestra designation in 1991, 1993, 1995, and 1997. Students go on to play in the Memorial and Stratford HS Orchestras, both of which have won numerous honors.

During her tenure at Memorial MS, Donna has been surrounded with many gifted colleagues: Lydia Feazell has been at Memorial since 1990; Bingiee Shiu and Michael Alexander have headed up the high school programs and assisted at the middle school; Cindy Robicheaux and Peggy Rossmiller have been inspiring collaborators; Katie Hemphill, Kathy Karpicke, and Julie Lundgren have contributed much to the middle school and elementary programs.

Donna received the Spring Branch ISD Outstanding Instructional Award and was recipient of the Houston Symphony Outstanding Teaching Award. She has judged All State and Honor Orchestra tapes and has presented various clinics at both the TMEA and TODA Conferences. She has also given seminars in other districts, sharing ideas for creating better orchestra programs.

Donna is retiring from her present position to teach privately and will maintain an association with Memorial MS on a part time contract basis. She plans to enjoy playing with her new grandsons, who undoubtedly will play cello as have their parents and grandmother and great-grandmother, or maybe violin as their great-great grand-dad!