Ida Steadman
TODA Orchestra Director of the Year - 1997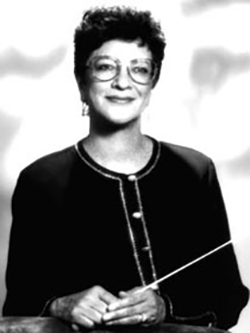 Ida Steadman is a graduate of the University of Texas at El Paso, and completed a Master of Fine Arts Degree in Performance at the University of Georgia. She directs the orchestras at Morehead Middle School and Coronado High School, and is the principal cellist for the El Paso Symphony Orchestra.

Ida is married to Hane Steadman, Jr. who is the owner of Landscape West. They have four children and four grandchildren.

Ida has taught for the El Paso ISD for 31 years. She has also held positions in Artesia, New Mexico; Athens, Georgia; Texas Tech Band and Orchestra Camp; Colorado State University Band and Orchestra Camp; and Arts Encounter, Bartlesville, Oklahoma. She served as interim conductor for the El Paso Youth Symphony and has been adjudicator or clinician for TMEA, TODA, Colorado MENC, Greater Southwest Music Festival, American Classic Music Festivals, UIL Orchestra Contests, and All Region orchestra conductor for TMEA Region VIII.

Ida is chairperson for Region 22 of TMEA, past president of TODA and is a member of ASTA, AF of M, Music Forum of El Paso, Delta Kappa Gamma, and Mu Omicron.

Ida has been recognized in the El Paso Community with lifetime membership in the Texas PTA; named the outstanding ex-student from Burges High School in 1989-90; and was awarded the prestigious "Conquistador Award" from Mayor Azar in 1989.

The Coronado High School Orchestra, under her direction, has travelled extensively and performed all over the world. This past March the orchestra travelled across Japan on a four-concert tour which concluded at Tokyo Disneyland. The Coronado Orchestra has performed at the Mid-West International Band and Orchestra Clinic twice and has been selected as Honor Orchestra for TMEA three times.