James Kidwell
TODA

 

Orchestra Director of the Year - 2008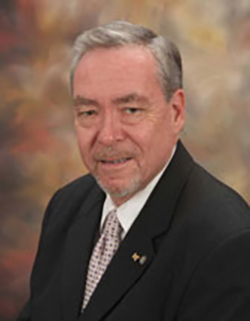 Born and raised in Amarillo, James Kidwell started playing violin in the fourth grade in the school orchestra with his brother, Richard Kidwell, Jr, as the teacher. He then started playing French horn in the school band in 8th grade at Austin JH under Pat Jones (ODY 2001), while still playing violin in the orchestra. He continued playing in orchestra and band through high school, graduating from Amarillo HS in 1965. He attended Louisiana Tech University, was student concertmaster of the Ruston-Tech Symphony Orchestra, and graduated with a BME in 1969. James started his teaching career in Lubbock as Orchestra Director at Mackenzie JH, and while also teaching five elementary school beginner programs. He taught at Mackenzie three years, bringing the school its first UIL orchestra sweepstakes. James earned his MME at Texas Tech. He then taught at Estacado HS two years before moving to Carrollton-Farmers Branch ISD to teach two years at R L Turner HS. In 1976 Kidwell moved to the Houston/Clear Lake area to teach in Clear Creek ISD as the district's first full time orchestra teacher. The orchestra program had been started a couple of years earlier by Alice Steele and several other part-time string teachers. In his first years at Clear Lake HS, he also taught at Webster Int. Sixth grade orchestra and band programs had been taken out of the program, but were reinstated after two years. James taught at Seabrook Int for 13 years, bringing the first UIL orchestra sweepstakes to that school. He had a private violin/viola studio and taught at summer camps at Texas Tech and Baylor.

Kidwell taught a total of 27 years at Clear Lake HS before retiring in 2003, only to go back one more year as half-time teacher. After leaving CLHS in 2004, he taught two fall semesters at the University of Houston Moores School of Music as adjunct teacher, teaching the upper string methods class. During his years at CLHS, the orchestra grew to over 132 students, earning many sweepstakes awards and festival awards around the country, including San Francisco, Nashville, Orlando, New Orleans, Breckenridge, Dallas, and San Antonio. In 1990 the CLHS Symphony Orchestra was named TMEA High School Full Honor Orchestra, and performed at the TMEA Convention in 1991. During James' tenure at CLHS, over 100 Clear Lake orchestra members were selected to perform with the All-State Orchestras and Bands, thanks to the many fine private teachers in the area. James also became certified to teach Advanced Placement Music Theory in 2000, and started the Music Theory program at CLHS. He was Fine Arts Department Head from 2000 to 2003. Many of James' students from the CLHS Orchestras have become orchestra teachers, private lesson teachers, and performers.

James also received several individual honors while at CLHS, including being named the school's Outstanding UIL Sponsor in 1992-1993. He was named to Who's Who Among America's Teachers in 2000, and was the school's nominee for the Space Center Rotary Teacher of the Year in 2000, becoming a finalist for the district award. James served on the TODA Board from 1975 to 1980, and was President in 1979. The Board at that time developed the TODA "Orchestra Director of the Year" award, and James presented the first award to A Clyde Roller (ODY '79) at the 1980 TMEA Convention at which Roller was the All-State Symphony conductor. Mr Roller could not attend the TODA Convention the summer before because of conducting responsibilities in Australia. Kidwell served on the TMAA Board from 1990 to 1992 as the orchestra representative of the Committee for Standards of Adjudication and Performance Practices. He has also served as TMEA Region Orchestra Chair in Lubbock (Region 16), Dallas (Region 3), and Houston (Region 19). In 1995-1997, he was the TMEA Orchestra Vice-President and State Orchestra Chair. He served on the State Textbook Review Committee in 2004.

Mr Kidwell has performed in the Amarillo, Ruston LA-Tech, South Arkansas, Lubbock, Midland-Odessa, and Richardson Symphonies, either on violin or viola. In 1976 he helped form the University of Houston Clear Lake Community Orchestra (now Clear Lake Symphony), was on the steering committee, and first stand viola, along with his future wife, Deborah (Rogers) Kidwell. He was also Associate Conductor from 1976 to 1982.At Webster Presbyterian Church, James and his family provide string music when needed. James directs the adult hand bell choir, plays in a hand bell quartet, and plays bass recorder in a recorder consort, both directed by his wife, Deborah. He is also an ordained Elder in the Presbyterian Church, and was a ruling elder from 1995-1998.

James' wife, Deborah, also a violinist/violist and former TODA Board Member and President, taught orchestra in Baytown and in Clear Creek ISD, teaching for 15 years at Clear Brook HS, and was Director of Visual and Performing Arts for CCISD from 2003-2007, for a total of 33 years in public education. Deborah has also won several outstanding administrator awards, and is also an ordained Elder in the Presbyterian Church. James and Deborah will celebrate their 30th wedding anniversary right before the TODA Convention this year.
James has a son and daughter from a previous marriage to Karen Beer, currently an orchestra director in Pasadena ISD. Son Chris, played cello in James' Seabrook ISD and CLHS Orchestras and still plays cello and guitar in the WPC Praise Band. Chris is married to Jennifer (Dwyer) Kidwell, who was also a cellist in James' orchestra at CLHS, and a former All-State Orchestra member. Chris is Grant Writer for Clear Creek ISD, and Jenny is Assistant Orchestra Director at Space Center Int in CCISD. They have three children, Everett, Caleb, and soon to be adopted, Lauren. Daughter Kristina, a violinist and a vocalist, has taught sixth grade choir, but is now a Special Education teacher at Gilmore El in CCISD. She also sings with the Praise Band at WPC when time permits. Her husband, Anthony Hearn, was in the US Army for nine years, attaining the rank of Captain, served one tour in Kosovo, and two tours in Iraq, earning a Bronze Star. Tony has now returned to civilian life, but will be in Kuwait at the time of the TODA Convention for civilian contractor training. They have two children, Maria and Nathan.

James and Deborah's daughter, Kathryn (Kat), also a violinist, is Human Resources Specialist for Memorial Hermann Southeast Hospital. Her husband, John, works for Warwick Construction Company. They have one son, John III (Trey). James is an active member of TMAA and continues to judge UIL contests and orchestra festivals in Texas, Louisiana, and Oklahoma. He is a member of TMEA (Retired), TODA (Lifetime), ASTA/NSOA, and AGEHR professional organizations. He is also a member of Mu Omicron. James clinics orchestras in the Houston area, and is working part time for Lisle Violin Shop, serving the Pasadena, Spring Branch, Cy-Fair, and Klein ISD orchestra directors.

James is very honored and humbled that the TODA Board has selected him as "Orchestra Director of the Year", and expresses his sincere thanks and gratitude.