Karen W McAfee
TODA Orchestra Director of the Year - 2011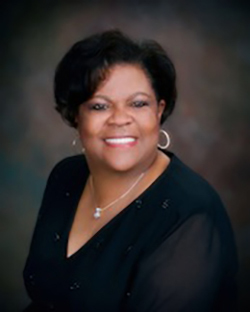 Karen Walker McAfee comes from a family of educators and musicians.    A native of Lubbock, she recently retired from the Midland ISD in Midland, serving 28 of her 37 years in education as the orchestra director at Robert E Lee Senior HS.  During the 1992-93 school year Mrs McAfee taught at Driscoll MS in the North East ISD in San Antonio.

Mrs McAfee received her BME from West Texas State University in Canyon, taught three years in the Amarillo public schools, and in 1976 was recruited to create a string program in the Midland ISD.  During her tenure with the Midland public schools, her freshman and high school orchestras were consistent sweepstakes winners and were named as the Outstanding Orchestra in several national festivals.  Many of her students were named to the all-region orchestra each year with a select group of masterful students achieving an all-state designation.   Karen is truly blessed to have been influential in so many lives and very proud of the former students who are current orchestra directors, elementary music teachers, private studio teachers, or professional musicians.

Karen is an accomplished violinist, currently performing with the Midland-Odessa Symphony.  In recent years she has played in the Amarillo, San Angelo, and Big Spring Symphonies.  In August 2011, she will perform in the Gateway Music Festival in Rochester NY.   Several very important people played critical roles in shaping the Karen McAfee you see today.  Karen's mother – Mrs Mary Newton worked tirelessly to provide the necessary tools for her success.  Without her constant love and attention, Karen feels she wouldn't have had the desire to learn, the courage to embark on such a challenging career, the intensity to maintain focus over the years, and the steadfastness to persevere even when things were tough.  Mr James T Braxton – her high school orchestra director.  Mrs Betty Roller and Mr Ron Wells – her student teacher mentors.  Dr Thomas Hohstadt – Amarillo and Midland/Odessa Symphony Conductor each played a significant role in helping push Karen to achieve at a high level.  "To them and many more, I am truly grateful."

Her professional affiliations include memberships in TMEA, TODA, TMAA, ASTA, and TCTA.  She is a past president of Mu Omicron, honorary orchestra fraternity, and a member of Mu Phi Epsilon and Delta Sigma Theta sororities.  Karen is also a past president of TODA and served on the board for the Texas chapter of ASTA.   Mrs McAfee has worked on the summer music camp faculty for Baylor University, Texas State University, and Texas Tech University.  In the 28 years she taught at Lee HS, she was selected as "Teacher of the Year" four times.  Each year she is called upon to conduct various region orchestras and to serve on UIL adjudication panels.  On three different occasions she had the privilege of conducting the all-area orchestra in Omaha, Nebraska, and in February 2005, she conducted an all-state group in Alabama.  Because of her commitment to the community, in 1992 the city of Midland declared a "Karen Walker Day" honoring Karen for her outstanding achievements.  A die-hard workaholic, Karen served as the interim conductor of the Lubbock Youth Symphony Orchestra 2010-2011.

In 2002-2003 the Lee HS Symphony Orchestra was selected first runner-up in the Texas Honor Orchestra competition.   One of the most noted musical accomplishments came in February 2005 when the Lee HS Symphony Orchestra performed at the National Conference for American String Teachers' Association in Reno NV, as one of only eight high school full orchestras selected.  The Lee HS Orchestra placed second in that competition.  In May 2007, the orchestras from Lee received yet another great honor.  They were invited to perform at the celebration of the 400th anniversary of the first settlement to the new world in Jamestown VA.  The Lee High string students performed with the Virginia Symphony and seven other high school orchestras from across the nation.

Upon her retirement, the MISD Board of Trustees, as a token of appreciation for her exceptional years of service to the district, named the orchestra hall at Lee HS the "Karen Walker McAfee Orchestra Hall."  She has enjoyed an incredible career in orchestra education and is extremely grateful and humbled to receive the 2011 Orchestra Director of the Year Award.

    Karen believes that "education involves learning, and learning never stops for any person striving to better himself/herself.  The sincere desire to continually achieve at a high level causes one to seek new and improved methods.  I feel that it is crucial that teachers never become stagnate, uncaring, lazy about such an important calling.  Good teachers must have high expectations if exceptional learning is to take place.  There are too many people who expect too little, and get exactly what they expect.  Teachers must be over-achievers, true role models, and champions for the profession.  Through commitment, dedication, and the sheer love for the profession, teachers must believe that all children can learn and be willing to execute a method to reach every child."

Karen is a devoted wife to retired MISD administrator Dr John W McAfee, Sr;  a mother to five young adults – Veronica McAfee, Charlotte McAfee, John McAfee, Jr,  Christopher Walker, and Derrick Walker; a mother-in-law to two perfect daughters – Marci Walker and Stephanie Walker; and a grandmother to five precious grandchildren – Jordan Collins-Walker, Jacob Collins-Walker, Cydney McAfee, Jade Walker, and Jessalyn Walker.