Kathy L Fishburn
TODA

 Orchestra Director of the Year - 1999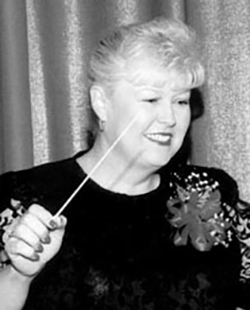 Kathy L Fishburn received her degrees from Sherwood School of Music and West Texas State University. She has taught Orchestra in Texas for 30 years and retired this year as the Orchestra Director at Permian High School in Odessa, Texas The 130 string players at Permian High School are divided into three orchestras. The Symphony Orchestra meets as a full orchestra during the school day. All the orchestras have been consecutive UIL Sweepstakes winners for the past 30 years and have won "Outstanding Orchestra" at many festival competitions.

Ms Fishburn is a Past President of the Texas Orchestra Directors Association, served on the Prescribed Music List Committee for UIL in 1987, was an appointed member of the Standards of Adjudication and Performance Practices for the Texas Music Adjudicators Association in 1987 and 1995, and is a Past President of the Texas Music Educators Association.

Ms Fishburn was elected vice-president of the Texas Music Adjudicators Association in February in 1995 and President in 1997. As a member of the TMAA, she has judged Orchestra Contests throughout Texas and the surrounding states and is a clinician for United Musical Instruments USA, Inc. She is a Past-President of Mu Omicron, the honorary fraternity for Orchestra Directors.

Ms Fishburn has served as a conductor for many TMEA All-Region Orchestras on the junior high and high school level, and several All-State Orchestras. She is the co-author of the "Time for Strings" beginning orchestra method book and has many arrangements and compositions for string orchestra published. Her son, Chris Greenley, is the manager of Norman Music Center in Norman, Oklahoma and is a performing bass player. Her sister, Rhonda Buie, is the General Music Teacher at Thunderbird Elementary in Plainview, Texas and is a violinist.

Kathy moved to Amarillo to be near family and to continue her work in music education. Kathy thanks her mother, Evelyn Hill, for all the music lessons and continued support for our musical careers. She is incredibly honored to receive the 1999 "Orchestra Director of the Year" Award from her peers.