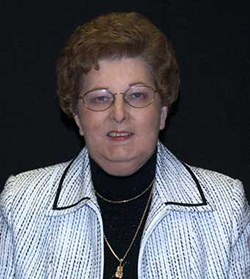 Upon graduation from Irving High School in 1959, Kay attended The University of Texas at Austin and earned a Bachelor's Degree in Music Education in 1965. While teaching in Amarillo (1966-70), Kay began work on a Master of Arts degree at West Texas State University which she completed in 1973. 

In 1970, Kay and her family moved to Houston where she taught for the Spring Branch ISD at Spring Forest Jr. High. While at Spring Forest, Kay's orchestras were very successful and won many UIL Sweepstakes Awards. Alief ISD opened Albright Middle School in 1983, hiring Kay as their orchestra director. While teaching at Albright MS, Kay's orchestras received 15 consecutive UIL Sweepstakes Awards. Kay was chosen as the 1989 Albright MS Teacher of the Year. In 1990-91 TMEA selected Kay's Albright MS Orchestra, and her husband Griff's Hastings HS Orchestra as the Middle School and High School String Honor Orchestras. This was the first time TMEA had chosen a husband and wife team in the same school district for these honors. In 1991-92, the Albright MS Orchestra and Hastings High School Orchestra were invited to perform at the MID-WEST BAND/ORCHESTRA CLINIC in Chicago. 

She has also been active in ASTA, TODA, TMEA and TMAA, having served as President of TODA, Orchestra Chairman for TMEA Region 9 and 17 and TMAA Vice-President, Orchestra Division. She was the Middle School Orchestra Guest Conductor for the University of Kansas Midwestern Music Camp for 13 years and is a frequent adjudicator and clinician thru out the Texas/Oklahoma areas. After 30 years of teaching, Kay retired in 1997, but one year later accepted a half-time position teaching beginning 5th and 6th graders at Klentzman Int. School. Alief opened Budewig Int. School in 2003, selecting Kay as their full time orchestra director.

Currently, Kay and her retired orchestra director husband, Griff, reside in Houston, Texas where Griff teaches skeet lessons. Their son Griff II (double bass), daughter-in-law, Rhonda (flute), and two grandchildren, Robert (viola), and Ruth (cello), also live in Houston.

Kay is extremely proud to have been chosen as the 2007 TODA ORCHESTRA DIRECTOR OF THE YEAR. She wishes to thank the members of the TODA Board and those who nominated her for this wonderful honor. Kay feels that her success has been due to those who helped her along the way, beginning with her parents Richard and Ruth Davis; her first band director Karl Hudgins; University of Texas Longhorn Band Director Emeritus Vincent R. DiNino; mentor and friend Robert E. Foster and wife Becky; Dr. Gary Garner, Bill Porter (ODY 1985), Betty Roller(ODY 1990), Kathy Fishburn (ODY 1999); Pat Jones (ODY 2001); former principal Dennis A. Paul, and her husband Griff. Kay also wishes to thank TMEA, TODA, ASTA and the music industry for providing the clinics and materials that helped her become successful. Most of all, Kay wants to thank all of the outstanding young musicians that she has had the privilege of teaching.