Pat Jones
TODA Orchestra Director of Year - 2001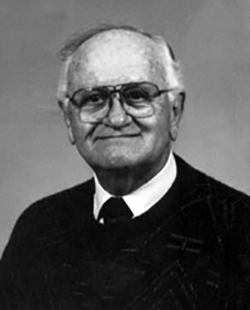 Pat Jones began his musical career in Bristow OK with violin lessons at the age of nine. He continued and played in the Bristow High School Orchestra. From there he studied during summers in Chicago at Sherwood Music School with an Artist Violin Teacher, Leopold Foedrel. After WW II he returned to Sherwood, earning his Bachelors Degree in Music Education. He spent four years teaching band and choir in Oklahoma before moving to Amarillo, where he taught for 14 years at Austin Junior High. Both the Austin band and orchestra were consistent winners at the UIL Contests. The Austin Junior High Orchestra was selected to perform at the Mid West Music Convention held annually in Chicago.

Pat has had a varied career in teaching, in the retail musical instrument business, as clinician, adjudicator, and performer. He was a member of Tulsa Philharmonic Orchestra and the Amarillo Symphony for 30 years under the direction of A Clyde Roller, the most influential musician of his career. He was one of the founding fathers of the Greater Southwest Music Festival in Amarillo, and is a lifetime board member. He is a Charter Member of Mu Omicron.

Pat's main interest has always been the betterment of string music in the public schools. He has had many former students become professional musicians, teachers, composers, and conductors. Among these are John Gibson, John David Souther, Danis Grace Kelly, Suzanne Kelly, Barbara Barber, Vickie Stewart, Dorothy Wells, James Kidwell, and Charles Jones, his son. Others he helped along the way include Kathy Fishburn, Royce Coatney, Ron Wells, Bill Huff, Linda Keefer, Kay and Griff Miller, and David McCutchan.