Ron Wells
TODA Orchestra Director of the Year - 2000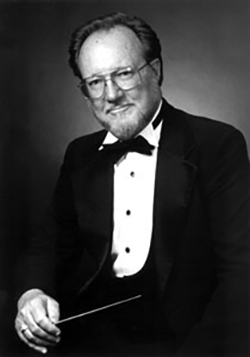 Ron Wells entered the world of music education as an elementary student in Amarillo where he took piano lessons and played bass drum in the school orchestra. He continued his music as a percussionist in the band and orchestra through his high school years, and while a student at Amarillo College, he started trombone and decided to make music his career. After receiving his Bachelor and Master of Music Education from Texas Tech University in 1964, Ron began his teaching career in the town of Memphis, Texas, where his first band was named State Honor Band.

After that first year in Memphis, he moved his young family to Amarillo to accept a position as director of instrumental music at his alma mater, Amarillo High School. Over a period of fifteen years, his groups received state and national recognition. His symphony orchestra received an invitation to perform at the MENC Southwest Regional Conference in Albuquerque (1973), and his bands and orchestras were frequently named outstanding organization at various music festivals, including Six Flags Over Texas, Buccaneer, Greater Southwest and TriState music festivals. His orchestras and bands consistently received sweepstakes ratings in UlL competitions throughout his teaching career. Twice, in 1972 and 1978, the Amarillo High School Orchestra under Wells' direction was named Texas State Honor Orchestra.

In 1980, his career took a different turn when he entered music administration. As director of music for Amarillo ISD, and later as director of fine arts for North East ISD in San Antonio, he continued his role as advocate and supporter of the arts, championing orchestral education in Texas.

As a guest conductor, Wells has conducted organizations throughout the southwestern United States, and has served as an adjudicator both state-wide and nation-wide. He has also served on the faculty of the National Music Camp in Interlochen, Michigan, and has enjoyed a long and varied career professionally, both as conductor and as performer.

Ron is a founding member and immediate past president of Mu Omicron, a fraternity comprised of music educators dedicated to the betterment of orchestral music in our schools. He has also served as president of Region Xll of TMEA, and in 197576 served as vicepresident and orchestra division chair of TMEA.

Ron, beginning his second year of retirement from his job, is currently attempting to learn the art of oil painting, and is working to refine his golf game. He and his wife, Dorothy, also a member of TODA, enjoy spending time at their mountain cabin in Eagle Nest, New Mexico, where he strives to occasionally coax a brown trout onto his fly line. Ron and Dorothy have two grown children. Michael is following in his parents' Sweepstakes footsteps as orchestra conductor at Katy High School, and Melanie is a writer and family therapist in Dallas, where she still enjoys playing a mean fiddle. Ron and Dorothy both remain active in music education, clinicing, and judging at every opportunity.


Personal statement:
I am grateful that I have had the opportunity to work with so many very talented students over the years, many of whom are currently music educators and performers in Texas and across the nation. Additionally, the opportunity throughout the years to spend time wit,h and to associate with, so many fine music educators has been invaluable to my musical growth.

Without them, and without the support of my wife, Dot, and my two very talented children, I would not have been able to experience the wonderful career with which I have been blessed. I am indebted to you all! Thank you!