Royce Coatney
TODA Orchestra Director of the Year - 2006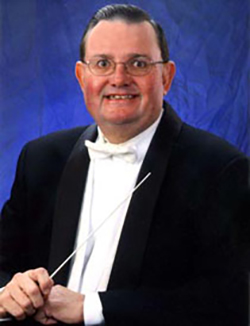 Royce Coatney was born and raised in Amarillo, Texas by his loving, caring, and very supportive mother and father.  They were so surprised when he came home from school in the spring of his third grade year and announced that he wanted to be in the school string program and that he was going to play string bass.   When he met with Betty Jo Roller to be sized for an instrument she quickly said,  "Well, Royce, you are pretty short to be able to handle that big bass.  What about the cello?"  So in the fourth grade his music experience began on the cello and continued through high school where he was in the All-State Orchestra for three years.  His high school director, Mr George Bledsoe, was a role model for Royce and influential in his decision to go to Texas Tech and major in music education.

Many times while at Texas Tech he was ready to quit, but Paul Ellsworth always encouraged him to not let any obstacle, no matter how big at the time, keep him from his dream.  With 1 ½ years remaining to finish his degree, he married his wife of 35 years, Sylvia.

His teaching career began in the fall of 1973 in a very young string program in Hereford, Texas started by Charles Jones under his father, Pat Jones', supervision.  In the summer of 1977 Royce accepted a middle school position in Grapevine where he taught for two years.  In the fall of 1979 he became the orchestra director at Lamar High School.  During his tenure at Lamar, the program grew from one orchestra of about 50-60 string players to four orchestras with about 150 students.  One unique aspect that he always cultivated at Lamar was a cooperative atmosphere with the band director and band program.

From 1989 through 1991, Royce was TMEA Vice President-Orchestra Division Chairman.  Prior to that and since that time, he served on numerous committees and was Region V Orchestra Chairman for 17 years.  He has been a member of TODA since 1972 and is a founder and Past President of Mu Omicron, a professional orchestra director fraternity.  He is also an active member of TMAA and guest clinician and adjudicator of many region orchestras and region and state orchestra and solo-ensemble competitions in Texas, Oklahoma, and Louisiana.

Over the 26 years at Lamar High School, the Symphony Orchestra received 21 consecutive UIL Sweepstakes Awards and the other orchestras consistently received Sweepstakes and Division I ratings.  The orchestras were frequently named outstanding organizations at various music festivals throughout the United States.  The Symphony String Orchestra and Symphony Full Orchestra placed in the top eight finalist in the TMEA Honor Orchestra competitions over the last several years of his career and the Full Orchestra was named the 2004-2005 TMEA Honor Full Orchestra.
Personal Statement:
I would like to thank the TODA Board members and everyone one of my colleagues I have had the privilege to work with.  I owe my success to so many other people – to the many talented students I had the honor to teach, to the orchestra directors in the Arlington ISD for their support and encouragement; to my colleague and friend, Steve Musser, the Lamar High School band director (retired), for his unselfish, cooperative attitude and support of the orchestra program all 26 years we were at Lamar; and last, and certainly the most important, to my wife, Sylvia, and my son and daughter for their never-ending and always present love, support, and encouragement.

My heartfelt thanks to all of you.  I am deeply honored to receive this award.